The Desert Eagle is one of the most popular weapons in Counter Strike. There is virtually no player who hasn't heard of the Deagle. But if you're new to the game, you might be wondering what's so special about this iconic pistol. Is it really that good? Or maybe it's just about its looks? And why is it more expensive than all the other guns in this category? Today we will answer all these questions as well as show you our favorite Deagle CS GO skins. So sit back, relax and read on!
Some Basic Information About the Desert Eagle
Counter Strike's version of the Desert Eagle was based on the weapon of the same name, which was developed by Magnum Research Inc. and later improved by Israel Military Industries. Unlike many of the other weapons featured in the game, the Deagle was not intended for military use (but is currently used by special forces in Poland and Portugal). Rather than its performance in wars, the weapon gained popularity through its frequent appearances in movies and in pop culture. It has also found its niche in gaming, as many of the mainstream shooter titles include it.
Deagle's Performance in Counter Strike
As for Counter Strike, the pistol made its first appearance in the original installment of the game and has consistently accompanied players ever since. In Global Offensive, it is available for both the Terrorist and Counter-Terrorist sides.
What determines the popularity of the Desert Eagle is primarily its iconic status. Of course, it does have many advantages when it comes to its use in combat, but there is also a certain group of users who believe that the weapon itself is a relic and does not perform that well at all. So let's break it all down.
The Desert Eagle in Combat
What distinguishes the Deagle from other guns is, first of all, its power. It can inflict really high damage and, until recently, was the only weapon that could kill an opponent with one shot. This has changed in Global Offensive, but it is still impressive. All in all, this semi-automatic weapon offers its users a damage of 53, a penetration rate of 200% and an armor penetration of 93.2%. In addition, the reload time is only 2.2 seconds, and along with a relatively long range, the Desert Eagle can perform well in pretty much any type of combat.
Of course, the gun also has its drawbacks. First, most players do not cope well with the immense recoil caused by its shooting power. It makes spraying bullets virtually impossible, as regaining accuracy after the first shot takes some time. What's more, the Deagle has a small magazine with a capacity of only 7, which makes it necessary to constantly reload if you use it as your weapon of choice. Not only is this annoying, but it also prevents you from reacting quickly to enemy fire. Also, discretion is basically not an option. The Desert Eagle is one of the loudest firearms in the entire game.
Is the Desert Eagle Expensive?
Right next to the high damage, usually the most discussed part of the Desert Eagle is its price. This is because it is the most expensive pistol in Counter Strike: Global Offensive. Its cost in CS:GO is as high as $700, which is a $50 increase over previous versions of the game. Back then, it wasn't actually the most expensive weapon of this kind, as it was overtaken by Five-SeveN and Dual Berreteas. However, the situation is different now, and we can only guess what will happen with the arrival of Counter Strike 2.
Is the Desert Eagle worth it?
Unfortunately, it is difficult to give a definite answer to this question. Whether the Desert Eagle is worth $700 depends entirely on you and what resources you have in the game.
Some players believe that buying a Deagle is a good investment and training, because after mastering it, using any other weapon will be a piece of cake for you. Others, however, think it's better to focus on the P250, which is half the price, and which you'll use more often anyway. It's certainly worth seeing how the Desert Eagle performs and finding out for yourself whether this investment will actually bear fruit in the game.
Top 5 Desert Eagle Skins
Now that we have discussed all the advantages and disadvantages associated with the Deagle, let's move on to the fun part – our list of the best Desert Eagle skins. To avoid this article taking up 15 pages, today we will present only 5 of them, but we can assure you that they are the top of the top.
This impossible-to-pronounce skin is one of the most interesting Deagle variants, and thus a great way to kick off our list. Emerald Jörmungandr made its first appearance in the game in 2019 with the Operation Shattered Web update and belongs to the Norse Collection. Unfortunately, its price can knock you off your feet, but it's certainly an item that will bring any inventory to a new level.
Flavor Text: Wake the gods
First Added: 18 November 2019
Highest Steam Price: $599.00
Lowest Steam Price: $250.20
Blaze is a true Counter Strike classic that first appeared in the game in 2013 along with the famous Arms Deal update. Its simplicity captivated many players, who were eager to appear on the maps wielding this black-and-fiery weapon in their hands. Unfortunately, its popularity also translates into the price, making this particular Deagle variant one of the most expensive on the market. However, this Dust Collection skin is certainly worth the money, as adding it to your inventory will guarantee you the respect of all players.
Flavor Text: none
First Added: 14 August 2013
Highest Steam Price: $724.09
Lowest Steam Price: $684.09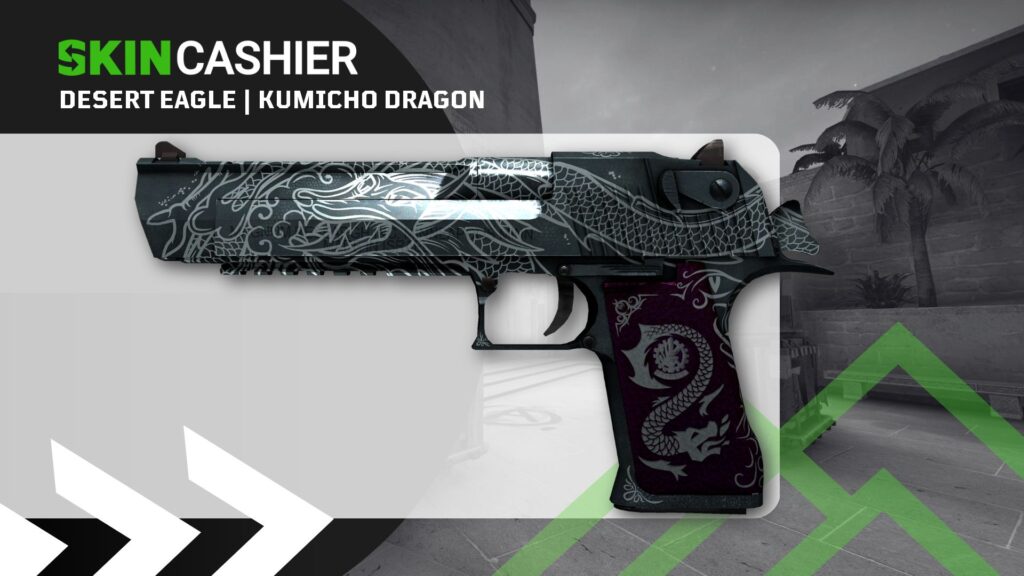 In order to avoid a situation where we present only insanely expensive options, we will now move on to a slightly more budget-friendly skin. The Kumicho Dragon comes from the Wildfire collection and first appeared in Global Offensive in 2016. Created by community designer "The Honey Badger," this Deser Eagle skin is filled with beautiful patterns depicting elegant dragons. We can't wait to see how it will perform in Counter Strike 2, as we're sure that Source 2's visual capabilities will make it one of the best-looking weapons in the game.
Flavor Text: I'm a big fan of your work Yukako, we should talk… -Huxley, The Competition
First Added: 17 August 2016
Highest Steam Price: $31.77
Lowest Steam Price: $10.81
This one needs no introduction, as Fennec Fox is known to virtually all Counter Strike players. Despite the fact that it has only been available in the game since 2021, the skin has already managed to gain iconic status in the CS:GO community thanks to its amazing design. What makes this particular Desert Eagle variant stand out is its colorful exterior, which features an adorable image of a fennec fox. Admittedly, it's definitely not the most affordable option, but at the same time, it is certainly one of the best-looking Deagle skins.
Flavor Text: All the better to hear you with
First Added: 21 September 2021
Highest Steam Price: $456.57
Lowest Steam Price: $280.35
At the end of our list, we introduce probably the least known of the skins presented so far. However, it is certainly not the least noteworthy. Desert Eagle Blue Ply belongs to The Prisma 2 Collection and first appeared in Counter Strike in 2020. Its design resembles wood that someone has painted in ash and blue. Having been created by community designer named "PTP", this skin is certainly one of the most unique alternatives available in the entire game. What's more, you'll be pleased to learn that Blue Ply is also one of the cheapest Beagle variants out there.
Flavor Text:WARNING: This is a replica and has not been tested with live ammunition
First Added: 31 March 2020
Highest Steam Price: $0.83
Lowest Steam Price: $0.06
Conclusions
Desert Eagle is one of the most reliable guns in Counter Strike. There's no denying that players are divided over some of its features, but overall, its iconic status cannot be negated. If you haven't had a chance to try this weapon in battle yet, be sure to do so. Then, browse our list of the best skins and complete your CS:GO inventory with the best Deagle variants.