If CS:GO players don't want to spend much, there are glove skins. Those skins are affordable. However, the cheaper the skins, the lower quality they will be. For collectors, quality and rarity are everything. And that is why they are ready to pay the big bucks, the same way they do with CS GO knives.
With the most expensive gloves, CSGO collectors go all out. Most gloves have a specific pattern. It can make them worth thousands of dollars. If you want to know some of the most expensive gloves CSGO has, follow this article. And check out where you can find them and how much will you need to pay.
What Are Gloves in CSGO?
Gloves in Counter-Strike are just another piece of clothing for the characters in-game. Like weapons, gloves also have special skins. CS GO gloves became an organic component of the Valve's most popular shooter in 2016. They were introduced during the Brothers in Arms update. Till now around 70 different glove skins have been implemented in the CS GO economy.
Similar to the weapon skins, collectors are always trying to find the rarest gloves. They also have an exterior quality. This quality significantly increases the value of the skin. To give you an idea of how rare and how expensive gloves can be, we created a list of the most expensive gloves in CSGO.
10. Specialist Gloves | Field Agent
Currently, the most expensive gloves on the Steam Market are the Specialist Gloves Field Agent in minimal wear. You can get them for a price of $2205. These gloves can also be opened in the Snakebite Case or the Operation Broken Fang Case.
9. Specialist Gloves | Fade
Next in line are the Specialist Gloves Fade. These colorful gloves with metallic accents appeared in 2018. It can be opened in the Clutch Case or bought for about $1825 in Minimal Wear condition.
8. Sport Gloves | Vice
The most expensive version of the Sport Gloves Vice comes in Field-Tested condition. It might not be the best; however, they still have a price of $1720. If you are not up to paying that much, you can try opening them from a Clutch Case.
7. Specialist Gloves | Crimson Kimono
Not to go into too much detail, but the Specialist Gloves Crimson Kimono gloves are one of the only gloves in Counter-Strike where the pattern matters the most regarding overpay. There are about five tiers. The lower the tier, the more vibrant the red color scheme will be visible on both hands.
On the Steam market, you will only be able to find ones in Field-Tested condition. It should be from tier 3 to tier 5. Currently, you can buy them for about $1450. On the other hand, some collectors have paid from $7000 up to a whopping $22,000 for Minimal Wear tier 1 Crimson Kimono gloves.
6. Sport Gloves | Omega
This pair of gloves got released in February 2018. It is a part of the Sport Gloves Collection. Today you can get ones in minimal wear for about $1406.
5. Sport Gloves | Pandora's Box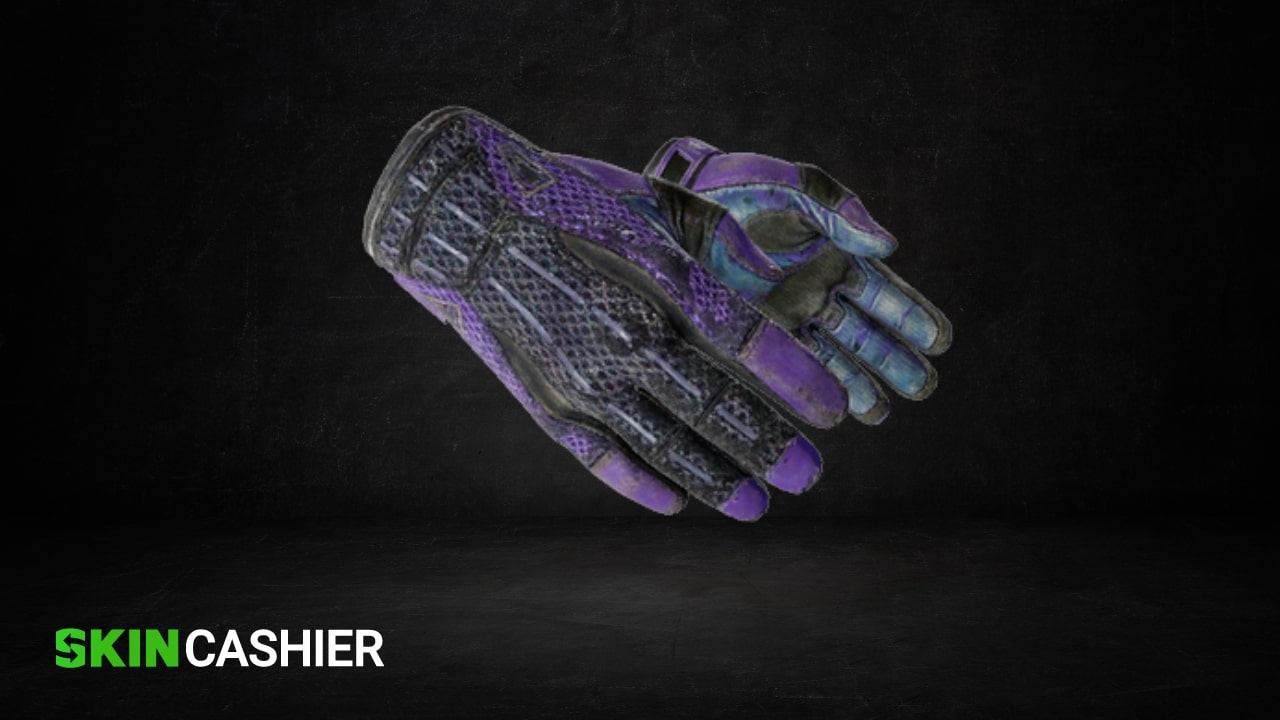 These black and purple gloves are popular gloves. Now, because the only pair currently on sale is in Battle-scarred condition price is around $1772. Because of their popularity, in Factory New or Minimal Wear condition, you would have to pay way more than that. They can also drop from a Glove Case or an Operation Hydra Case.
4. Driver Gloves | Overtake
The first entry from the Driver Gloves collection is the Overtake gloves. These are the first pair on our list that are being sold in Factory New and will cost about $1147.
3. Driver Gloves | Crimson Weave
The Driver Gloves Crimson Weave glove skins are our second entry from the Driver Gloves collection. There are currently two pairs in Minimal Wear. Both items are being sold for about $1146. They can also drop from a Glove Case or Operation Hydra Case.
2. Sport Gloves | Nocts
The Sport Gloves Nocts were introduced in 2020. At that time they have become popular. It currently costs $1110. In turn, some Factory-New goes up to $4000. You can drop it from Snakebite Case or the Operation Broken Fang Case.
1. Moto Gloves | 3rd Commando Company
The final entry on our top 10 list is the Moto Gloves 3rd Commando Company gloves. They were introduced to the game back in late December 2020. It is a part of the Snakebite Case or the Operation Broken Fang Case. There are two currently being sold on the market in factory new condition for about $1100.
Are
CS GO
Gloves Worth It?
It all depends on whether you are into skins. In the same way, as people are addicted to weapon skins, they too love glove skins CS GO. While some may think they are expensive CS items, others believe they are a crucial part for every collector to have in their inventory.
While we might have left out some pairs, for example, the Driver Gloves King Snake or the Moto Gloves Spearmint, we covered most of the glove skins that go for thousands of dollars. 
Feel free to check out our CSGO trading site. It has to offer TOP CS:GO gloves from this list.