If you've been playing Counter Strike: Global Offensive for some time now, you're probably aware that there hundreds of different awesome weapon skins in the game. Players can change the look of their guns, knives, and even the gloves of their characters.
Weapon skins are an important part of the game, and an expensive skin can easily cost over $10,000 for a Factory New version. Certain float-value versions of popular skins can even cost a small fortune.
There are many great skins available for players to use in their personalized loadouts. Today, we'll be focusing on some of the best white skins ever added to the game – the Printstream skin family.
Printstream CSGO Skins
The Printstream skins collection features three different weapon skins:
Desert Eagle Printstream
USP-S Printstream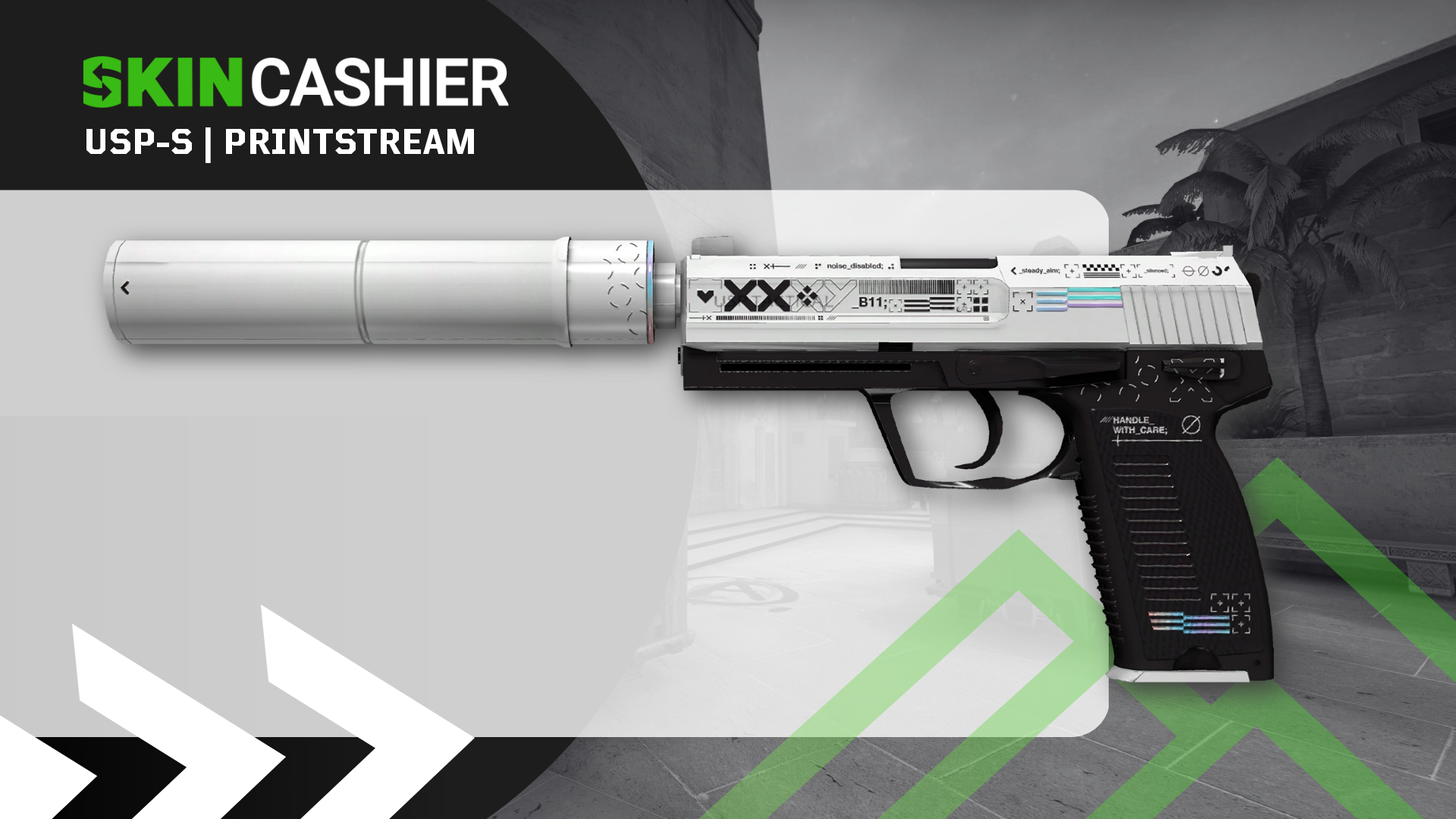 M4A1-S Printstream
2 out of 3 skins are for CT weapons, making this mostly a CT skins collection, although the Terrorists can still enjoy the Desert Eagle Printstream in their inventory. Each of the Printstream skins has a covert rarity, making them somewhat rare.
Despite being in the same family, all three different Printstream skins were released quite far apart. The first Prinstream skin, Desert Eagle, was released in an update on August 6th, 2020, as a part of the Fracture collection, and the skin is available in the Fracture case. The skin instantly became popular due to its sleek and stylish look. The second one, M4A1-S, was added to the game together with the Operation: Broken Fang, on December 3rd, 2020, and to this day remains one of the most popular M4A1-S skins in CSGO. Finally, the USP-S skin was added to the game on July 1st, 2022, making it the youngest out of the three, and yet it remains one of the best skins available for the default CT pistol.
Each of the Printstream skins features the same iconic design, mixing black with chromatic silver parts. Printstream skins offer a perfect balance between a stylish look and realistic design. Each of the skins features the same details, such as two black Xs and a heart near the barrel. The entire gun is covered in tiny writings and information, which can be revealed when you inspect the gun in-game.
Are The Printstream Skins Expensive?
if you want to buy some Printstream skins of your own, you should know that although they don't cost a fortune, they are still some of the more expensive skins for each of their respective guns. As of writing this article, each of the weapon's Factory New versions cost:
Desert Eagle – $98.80
M4A1-S – $454
USP-S – $143.76
Printstream skins are very pretty, but this makes them some of the more expensive in the game. Every CT player dreams about the Printstream skins for USP-S and M4A1-S, which only drives up their price. If you want to add them to your collection, get ready to spend quite a lot of money.
In Conclusion
As you can see, Printstream skins are almost as expensive as they are pretty. and if you want to get them for your in-game inventory, get ready to spend quite a lot. However, if you want to sell CSGO skins you don't need, remember that you can always cash them out for an instant payout at Skincashier!