Fracture Case is the cheapest weapon case in CS:GO after Prisma 2. It is one of the best cases you can buy if you're interested in finding legendary Desert Eagle skins, the best AK-47 skins, or one of the many Nomad, Paracord, Skeleton, or Survival knife skins.
When it comes to buying the Fracture Case, CSGO fans are excited. The advantages of this case are its low cost and the high value of its Desert Eagle Print Stream. Even though the case contains many of the best cheap CSGO skins, there are plenty of high-quality ones.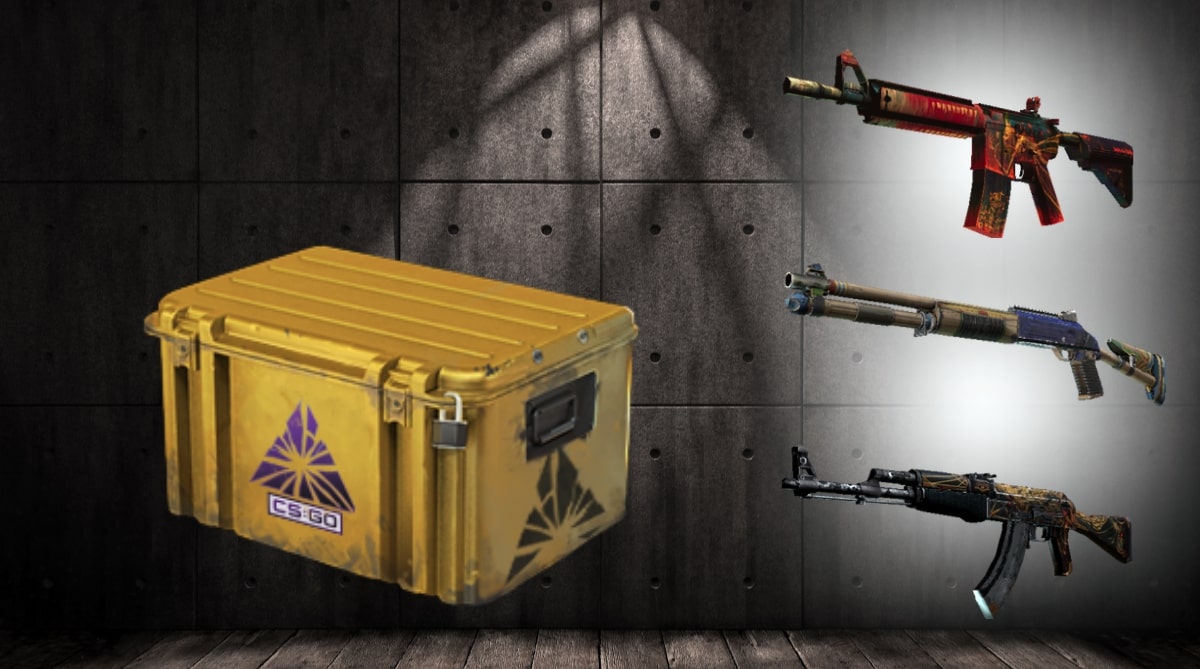 What Skins Are in The Fracture Case?
There are a lot of new items in the Fracture Collection. Some of the skins CS OG are valuable.
The case contains 52 Shattered Web knives you can get as an exceedingly rare item. Most of these CSGO Fracture Case knives are expensive. If you unbox a Factory New model, it can sell for more than $500. But it does not mean you should sell it right away.
Because of the low case price, the skins of Fracture Case CSGO knives are a bit cheaper on average. The Covert case skins that can be unboxed from the Fracture Case are these:
Desert Eagle Printstream

AK-47 Legion of Anubis
Both items are super popular. You should seriously consider keeping them. In the case of the pistol, the CSGO StatTrak version can cost up to $265, so the odds of getting your investment back are high if you open enough cases. Keep in mind that the weapon case price is around $0.15. So, you can open 10o loots for $250.
There are three classified skins in this CSGO case: Glock-18 Vogue, M4A4 Tooth Fairy, XM1014 Entombed.
The best of these three skins is the Tooth Fairy. The market price of the skin is around $23. You can cash your CSGO skins for PayPal if you have some in your Steam inventory. The current demand for it is high. It means people will search for the item for many months.
If you're interested in Restricted skins, the Fracture Case can offer you the following items:
MAG-7 Monster Call

MAC-10 Allure

Tec-9 Brother

MP5-SD Kitbash

Galil AR Connexion
How Much is a Fracture Case Key in CSGO?
Fracture Cases can be opened using a standard CS GO case key, which costs $2.35. Some CSGO skin trading platforms will sell you those keys slightly cheaper. But if you don't want to use such an option, Steam will sell you the keys for $2.35. The price may change depending on a variety of conditions.
Also, depending on your location, you may be asked to pay 2.35 Euros instead of 2.35 Dollars.
CSGO Keys: How Do They Work After Update?
Are Fracture Cases Rare?
The Fracture case is a great weapon loot to buy if you intend to keep the skins for personal use. If you are lucky enough, you will get quite a few StatTrak guns. Due to StatTrak technology attached to the skin, you can count how many enemies you shoot with this particular skin in the Counter-Strike: Global Offensive. Seeing how many frags you have with each item can motivate you to master it faster.
Regarding rarity level, the CSGO skins in the Fracture Case are no different from other CSGO skins. In it, you can find Covert skins, Classified skins, Restricted skins, and Mil-spec skins, in addition to exceedingly rare knife skins.
The Mil-spec skins placed by Valve in the Fracture Case are the following:
SSG 08 Mainframe 001

P2000 Gnarled

P90 Freight

SG 553 Ol' Rusty

PP-Bizon Runic

P250 Cassette

Negev Ultralight
Most of them look decent and will be a trendy addition to your inventory if you don't already possess some top-quality or ultra-rare CSGO skins for these weapons.
There are the skins you'll get the most. Because the odds of them being in the case are approximately 80%. Their rarity class is proportional to that percentage, which is why they most probably are Mil-spec. However, there are other skins in this case too. And getting them is not hard if you open enough Fracture cases.
How Do You Get the Fracture Cases?
There are two methods of getting a Fracture Case. CS:GO gives you a chance of getting one via a drop at the end of each match. Usually, you'll get a few cases every week. And one of them is likely to be the Fracture Case.
The second method of obtaining a Fracture Case is to buy it. You can purchase such cases on the Steam Market, or you can do it using a different CSGO skin trading platform. The Fracture Case CSGO price is affordable. You should expect to pay no more than $0.15 for a case.
Final Words
When opening a Fracture Case, CS:GO can reward you with several expensive skins. The probability of unboxing one is low, but the costs for getting these cases are much lower than you can unbox many of them at minimal risk. Getting just one high-quality item will more than compensate for the cost of hundreds of cases.