CSGO Agents are unique full-body character customizations in CSGO with dangerous backgrounds. They are similar to skins but customize the characters instead of the weapons in the game. CSGO Agents were introduced in 2019 during Operation Shattered Web. Moreover, they are available for any CS GO map once you've equipped them.
What sets distinguished CSGO Agents apart are their unique appearance, background, cheers, and voices.
This list will show you the current most popular CSGO Agents. Once you get one of them you can show off to other players in-game or at the End of Match accolades.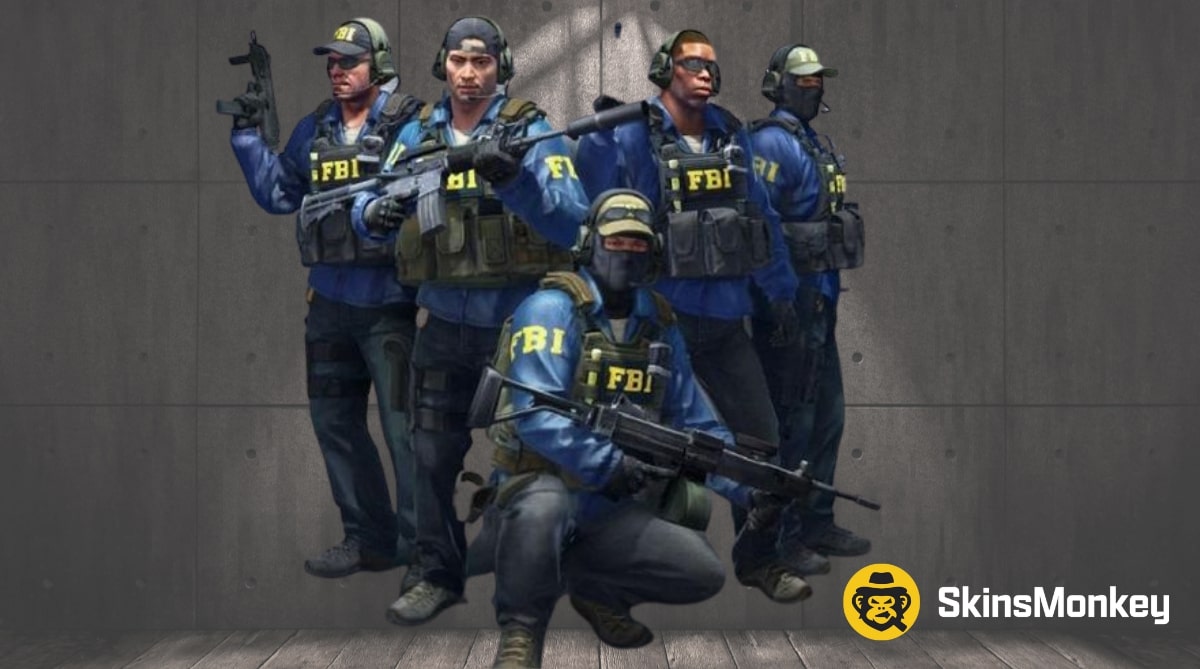 How Do You Get a CS:GO Agent?
Getting an Agent in CSGO isn't too difficult. These are the main ways:
Unlock new Agents by completing missions in-game
Buy Agents from Steam or Third-Party sites
Trade CS GO Agents
There are four different tiers of agents you can get in CSGO. The price and difficulty to obtain them are determined based on their rarity and tier level. Remember that you can sell CS:GO skins for PayPal on SkinCashier, and our system also accepts agents!
Thus, all agents in CS GO is divided into:
Master Agent

Superior Agent

Exceptional Agent

Distinguished Agent
8. Cmdr. Davida 'Goggles' Fernandez | SEAL Frogman
Starting Price

: $10.90

Rarity

: Master Agents
Davida Goggles Fernandez is highly trained in executing aquatic missions. She is able to control her heart rate and remain calm even in the most dangerous situations. She is one of the newer Operation Riptide Agents who was introduced in September 2021.
7. D Squadron Officer | NZSAS
Starting Price

: $4

Rarity

: Distinguished Agent
There isn't much that is known about the D Squadron Officer in Counter-Strike Global Offensive. All anyone knows about these CT-Side Agents is that they are extremely lethal and don't think before killing. When it comes to precision operations, hostage rescues, and highly classified missions, this is who you call.
6. Sir Bloody Loudmouth Darryl | The Professionals
Starting Price

: $8.25

Rarity

: Master Agent
Bloody Darryl is, by no means, someone you want to mess with. He is the leader of The Professionals and a highly skilled killer who loves his job. Bloody Darryl was introduced to CSGO in 2020 as a part of the Operation Broken Fang Agents.
5. Safecracker Voltzmann | The Professionals
Starting Price

: $2.75

Rarity

: Superior Agent
Safecracker Voltzmann is not a savage killer who gets her hands dirty but she does like to play with explosives and money quite a lot. What's most worthwhile mentioning about this Agent are her safecracking and technical skills on the field. She handles herself well under extreme pressure and always gets the job done.
4. Cmdr. Frank 'Wet Sox' Baroud | SEAL Frogman
Starting Price

: $9.46

Rarity

: Master Agent
Commander Frank Wet Sox Baroud is the only other diver to win the Navy Cross medal alongside Agent Davida Goggles Fernandez. His strong side is the incredible attention to detail. If you're a player with this type of precious skill, then this Agent is ideal for you.
3. Getaway Sally | The Professionals
Starting Price

: $10.69

Rarity

: Exceptional Agent
Sally may not look like it but he has the wit and the brains to improvise and find an opportunity to exploit in even the most hopeless of situations. He is one of the most well-dressed and wittiest Exceptional CSGO Agents you'll ever find.
2. 'Medium Rare' Crosswater | Guerrilla Warfare
Starting Price

: $4.06

Rarity

: Master Agent
This Agent is a former Navy SEAL Captain. He developed a nasty hatred for the USA and its soldiers after he was imprisoned by the Guerilla Warfare. And no one came to rescue him. Out of all the Operation Riptide Agents, Grasswater is probably the scariest one to watch in action.
1. Markus Delrow | FBI HRT
Starting Price

: $0.82

Rarity

: Exceptional Agent
If other players consider you a great strategist in CSGO and someone who makes great calls, then it's only natural for you to equip Markus Delrow. He is one of the cheapest CSGO Agents you can purchase. What is more, he is known for his strategic mind. Many players believe that he is always two steps ahead.
Does Counter-Strike Steam Bug Allow Hackers to Take Control of Your PC?
Are the CSGO Agents Available in Competitive Play?
Technically, it is possible to use the Agents skins in competitive match-making games. However, players can't use any Agents skins in FACEIT matches. Because they were completely disabled.
As for pro tournaments CS GO, the most common explanation for why we don't see any players with Agents in these matches is that they have an agreement between themselves not to use Agents, as it can slightly tilt the favor one way or another. Some tournaments even ban the use of any Agents, even the newer Riptide Agents.
Summary: CSGO Agents 
CSGO Agents are an inexpensive way to customize your character and become even more unique inside every match. Of course, you don't have to pay for them as you can also unlock even new Riptide Agents from completing missions in CS GO. At the end of the day, each agent in CS:GO is a cool in-game feature. But it does not mean that it will improve your skill in Counter-Strike: Global Offensive.